Skip to end of metadata
Go to start of metadata
The information on this page refers to License Statistics v6.0 and newer, which introduced a new user interface (UI). If you are using a version previous to v6.0, see documentation for previous versions.
You can download License Statistics reports and charts you access in the License Statistics web application as described below.
Downloading reports
License Statistics reports can be downloaded in the following formats:
Comma-separated value (CSV) list

Excel compatible file (Note that this applies to Microsoft Excel 2007 or higher)

PDF file
To download report data as one of these formats, select the desired format from the options under the Save As button at the bottom right of any License Statistics usage data list. License Statistics handles exporting the report data, so downloading reports does not require an internet connection.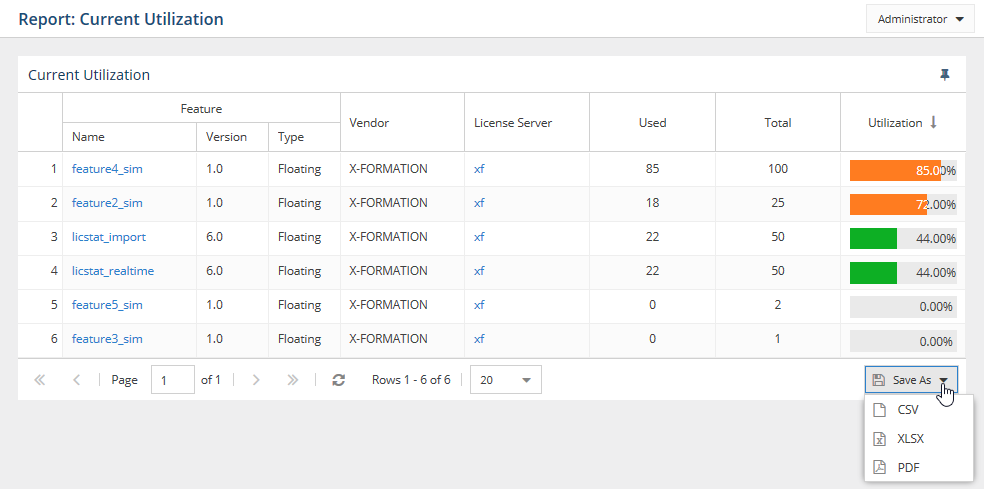 Note: Some grids also enable you to export reports to FLEXlm/FlexNet option files, as described in more detail in Importing and exporting FlexNet option files.
Downloading charts
You can download License Statistics charts to PNG format by clicking the Save button on the chart. Downloading a chart image requires an internet connection.
The image generation is hosted by Sencha (https://www.sencha.com); therefore, the browser will connect to http://svg.sencha.io. If you have concerns about using a 3rd party service to generate chart images, you may alternatively:
Export the data to Excel (XLSX), and then create your own chart from the resulting file.

Take a screenshot of the chart using an image capturing tool (for example, the Print Screen function or a screenshot application such as Snipping Tool).