...
Sorting and filtering controls are accessible by hovering over the column heading and then clicking on the arrow that appears at the right side of the column heading. 



A drop-down menu gives you the following options:


Sort in ascending/descending order (see "Sorting" below for more information)
Hide/show columns (select the Columns option, then toggle the list of columns on/off)

. Some columns are hidden by default, as described below.

Limit the grid contents (select Filters and

then select the available options, or enter

text for text fields)


The

filters you apply and the number of rows you select to display in the grid will also be used when 

downloading the data to a file

.

For some pages, these settings are also used

in the graph content.

Use the settings at the bottom of the grid to select pages and control the number of rows to display

per page (20 - 1000).
...
Hidden columns
Some grid columns are hidden by default. For example, "Feature" columns have several sub-columns, where ", such as "ID" and "Description," are hidden by default:.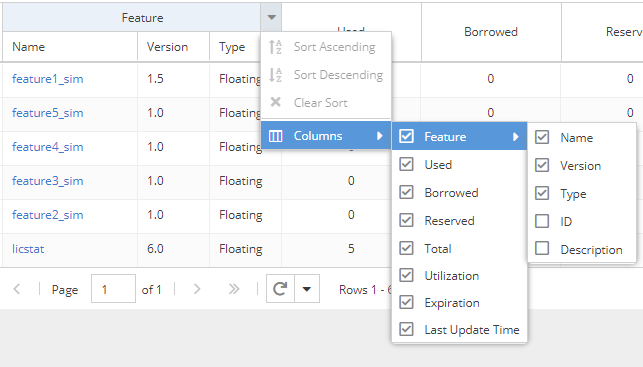 Image Removed
Image Added

ID and Description sub-columns are also included, but hidden by default, where individual entities are reported per row. This applies tocolumns exist for the following:
Feature
License Server
License Server Group
User
User Group
Host
Host Group
For example:
...
Refreshing data in grids and charts
...